Site Planning
Site Planning Requirements
Site Selection
The site location for development is to be determined in conjunction with the Macquarie Property Office (MQP) and is to align with the strategic campus plan and Campus Master Plan.
The project functional brief may include a defined site area or a number of site options.
Services: Existing site services as shown on drawings will comprise:
Services tunnel (where applicable)
Drainage lines, sumps, trenches and manholes for stormwater;
Drainage lines and manholes for sewerage;
Electrical supply mains, including external lighting cables.
Gas supply mains
Telecom cables and pits;
Domestic water supply mains (including fire protection supply);
Central Alarm Monitoring and control System (CAMAC),
Audio visual, computer, and security cables.
Additional Information: In addition to the site services information shown on the Site Plan and accompanying drawings, further technical details are available from staff of MQP.
Site descriptors
Previously buildings and facilities across the campus were identified using a Alpha / numeric system.
All existing buildings will have a Alpha / Numeric descriptor and this will change as works are undertaken on the building to the new revised descriptor that relates to building or facility street address.
The systematic approach to the Building or facility descriptors is set out within the Macquarie University Signage and Wayfinding Guidelines Part 4 – Naming Strategy – External.
This approach to building and facility descriptors is to be applied to all new facilities and any upgrades of existing facilities and all building signage is to be undertaken in accordance with the guidelines set out in the Macquarie University Signage and Wayfinding Guidelines.
Refer to the Macquarie University Signage and Wayfinding Guidelines
Site Investigations
Prior to design and development, the following is required for each site.
Obtain surveys of pre-€development conditions, including existing site, existing buildings and surrounding conditions, surrounding noise sources and local context.
Review local council development information, including future development plans for the local area.
Analysis of surveys and information available
Undertake an evaluation of relative importance of factors for site.
Conduct an assessment to determine impact on and interaction with site development.
The design team are to inspect the site, existing buildings and services to clarify the extent of works required.
Geotechnical Data
Any requirements for Geotechnical Data and information is to be coordinated with the property office.
Survey Reference Grid
University buildings and services have been positioned (sited) in relation to 0:0 reference point off campus.
Co€ordinates of existing buildings, etc and AHD levels are shown on the site plans available from the MQP.
Construction survey reference points are to be designated relative to the University reference point.
Site Clearance
Existing Trees & Natural Flora: Where practicable, retain existing both native and exotic, plus understory native vegetation, in accordance with any 'Fauna and Flora' study, Environmental Impact Statement recommendations and local authority (Council) tree preservation orders.
Removal of trees and local flora may cause an area to lose its character and it may take substantial effort and cost to revegetate the area.
Working with the existing environment can reduce the long term cost of the facility and improve whole of life conditions.
Top Soil: existing topsoil will often include nutrients that will be beneficial in re€establishing vegetation, therefore existing topsoil should be retained for later use in site development.
Contours
Ground surface contours of the site and the surrounding areas are shown on the campus survey, which can be obtained from Property.
Level Changes
Careful consideration of level changes around new developments is an important factor in the design of the campus.
When designing facilities the following should be considered:
Natural slope of site: where possible, utilise natural site contours when planning buildings and site facilities
Cut and Fill: should be minimised
Surface drainage and avoidance of erosion
User safety
Maintenance & servicing requirements of various surface materials
Banking is preferred to retaining walls
Maximum Slope for mowing 1:4, (1:8 preferred)
Slopes with mass planting preferably 1:4 to 1:3. Must be maintained and shouldn't interrupt pedestrian desired travel lines
Slopes > 1:3. Ground surface stabilisation will be required
Slopes > 1:2. Retaining walls will be required
Ramping: All pedestrian ramps across the campus are to comply with the access requirements as set out in the Building Regulations (BCA) and AS 1428 suite of standards.
Vehicular & Site Access
As part of the Campus Master Plan a number of vehicle and pedestrian access pathway maps have been developed to direct the forward planning of facilities on the campus. Any new facilities and buildings are to take into consideration and support these access pathways.
Additionally during any construction works ensure that:
Emergency vehicle access is maintained through the campus to all buildings 24 hours a day.
Pedestrian access through the campus is not prevented and
Maintenance vehicle access is provided for emergency vehicles 24 hours a day to existing buildings.
Vehicle access to buildings, through the campus and to construction sites will be restricted in line with the University Campus wide Traffic transport and parking policy, as agreed with MQP.
Authorised construction and delivery vehicles will be issued with temporary entrance permits.
Refer to Macquarie University Traffic and Parking information
Refer to the following for details of:
Campus Accessibility Map (PDF)
Campus Parking Map.
Shuttle Bus Map.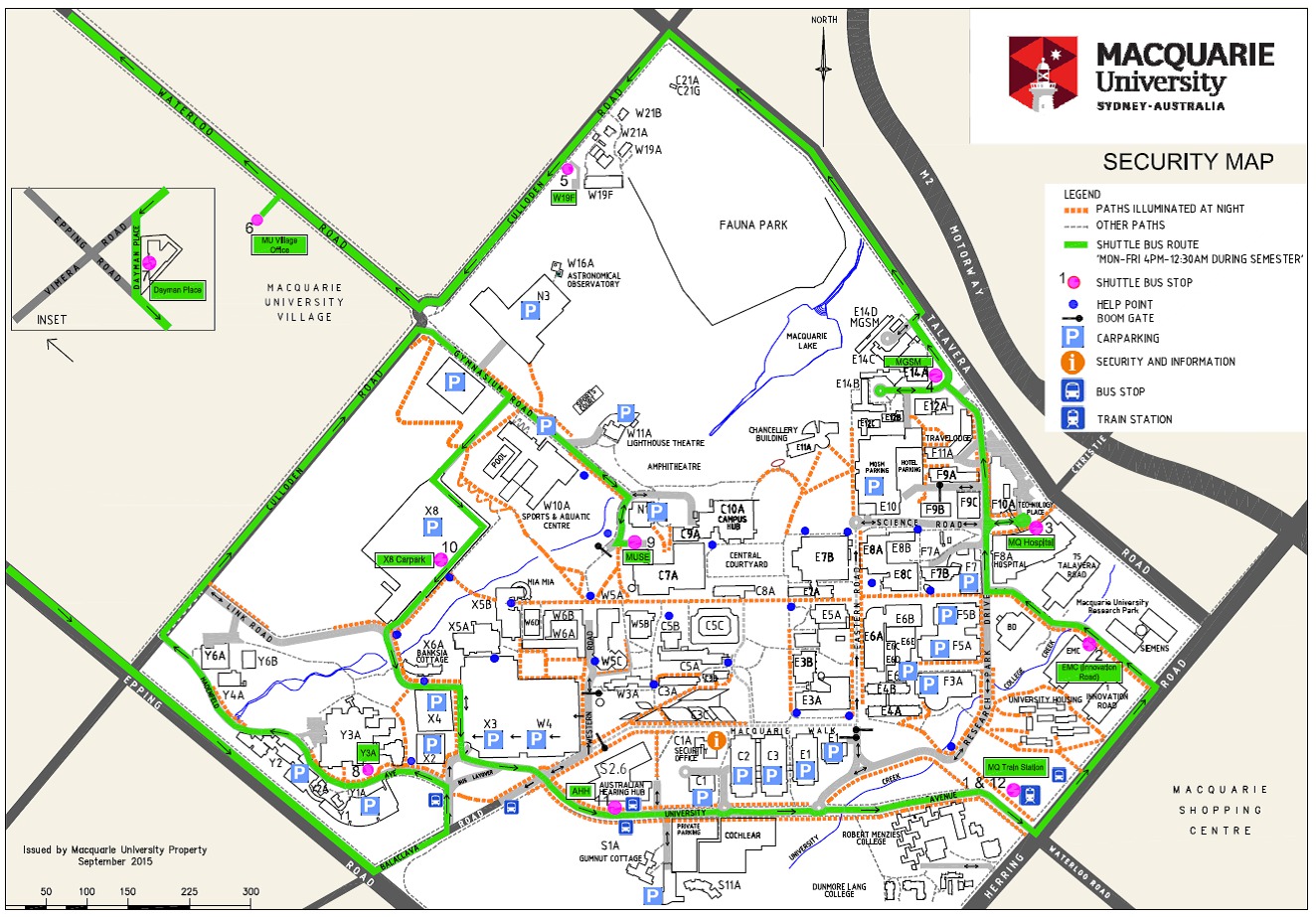 Existing Services – Locations
The existing services in the vicinity of the work to be carried out under each Contract are to be shown on the Site Services plans included in the project documents.
Drawings provided by Property are correct to the best of the University's knowledge, but physical locations and depths are to be taken as approximate indications only.
Construction contractors are required to allow for the identification of all underground and hidden services and including the same within the as built documentation.
Interruption to Existing Services
The University operates most hours of each day for most days of the year.
A number of services and functions such as essential services, security and the Computer Operations Room operate continuously, while others such as research laboratories, can only be deprived of services for short periods of time by arrangement with advanced notice.
It is imperative that any building work which requires existing services to be disconnected, altered, diverted is to be identified and the necessary precautions taken to avoid interruption to adjacent areas and University's functions.
Each occasion when existing services will be interrupted must be identified in the building program and any consequent delay to the builder's work allowed for.
The Property office require a minimum of 14 calendar days to organise an interruption to any service and the time and the length of time of the interruption is to be negotiated.
Similarly, if building work generates noxious fumes, odours or noise which is unavoidable and which will interrupt work by University staff in an existing building, the work is to be carried out only by arrangement with the Property office and the works program is to make the necessary allowances.
Existing Services – Breakages
The University cannot permit joins or splices in its telephone or fibre optic cabling. Where such cables are broken or damaged as a result of building work, the whole of the cable length affected is to be replaced by the contractor with cable of equivalent capacity and quality.
The lengths of the cables which traverse the building site will be shown on the Site Services drawings.
Splices in fibre optic cable and joins in telephone cable will not be permitted.